Membership comes standard with every new and pre-owned vehicle purchase. We know you will enjoy the benefits provided and we look forward to continuing to satisfy all your vehicle needs.
Enrolment comes standard with $50 in rewards.
The Erin Dodge Rewards Program is easy and simple. Once you become a member, we will create for you: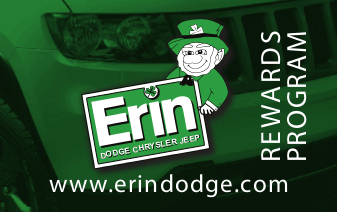 Your own personal Vehicle Rewards account that can earn you up to $1,000 off your next new or pre-owned vehicle purchase from Erin Dodge.
Your own personal Service Rewards account that will save you money off the service and maintenance of your vehicle. You can simply redeem your Service Rewards when you arrive to service your vehicle.