2022 Jeep Gladiator in Toronto, ON
The Jeep Gladiator is a capable pick-up truck with some of the aesthetics of the Jeep Wrangler. The Gladiator is especially appealing to those looking for a pick-up truck capable of off-road adventures. The truck has hefty tow and payload ratings, a five-foot bed, and powerful engine options. Its interior is spacious and comfortable enough for a large family. The versatility of the Gladiator makes it the preferred version over the popular Wrangler to those in need of a truck. The truck comes equipped with various safety features, such as rear parking sensors, blind-spot monitoring, and adaptive cruise control. Visit our dealership at Erin Dodge Chrysler Jeep Ram, located in Toronto, Ontario, to browse our new inventory.
2022 Jeep Gladiator Interior
The Gladiator's interior is spacious and well put together with a blend of hard and soft plastics. The styling is rugged and sturdy and will be able to handle anything you throw at it. The truck is available in a hard or soft top, with the soft top as standard. Both top options are simple to remove and install. Open-air driving is unmatched with the Jeep Gladiator, as you can remove the doors and lower the windshield. Its dashboard is angular with user-friendly controls and similar to the Wrangler. The rear under-seat storage, centre console, and glove box provide adequate secure storage spaces. The doors also come with durable mesh storage pockets for smaller items. The seats can be set up in multiple ways and safely secured for rough terrains.
2022 Jeep Gladiator Technology
The Jeep Gladiator comes with an 8.4-inch user-friendly touchscreen with Uconnect 5. The Uconnect comes with turn-by-turn navigation, Sirius XM, Apple CarPlay, Android Auto connectivity, and hotspot capabilities. The in-cluster display is customizable and shows various information, such as fuel economy, tire pressure, and other performance information, to keep you in control. SiriusXM provides information such as weather traffic and news. The SiriusXM app allows you to get roadside help, unlock the doors, or remotely start your car. A weatherproof detachable Bluetooth speaker is durable and rugged and recharges as you drive, making it an ideal travel asset.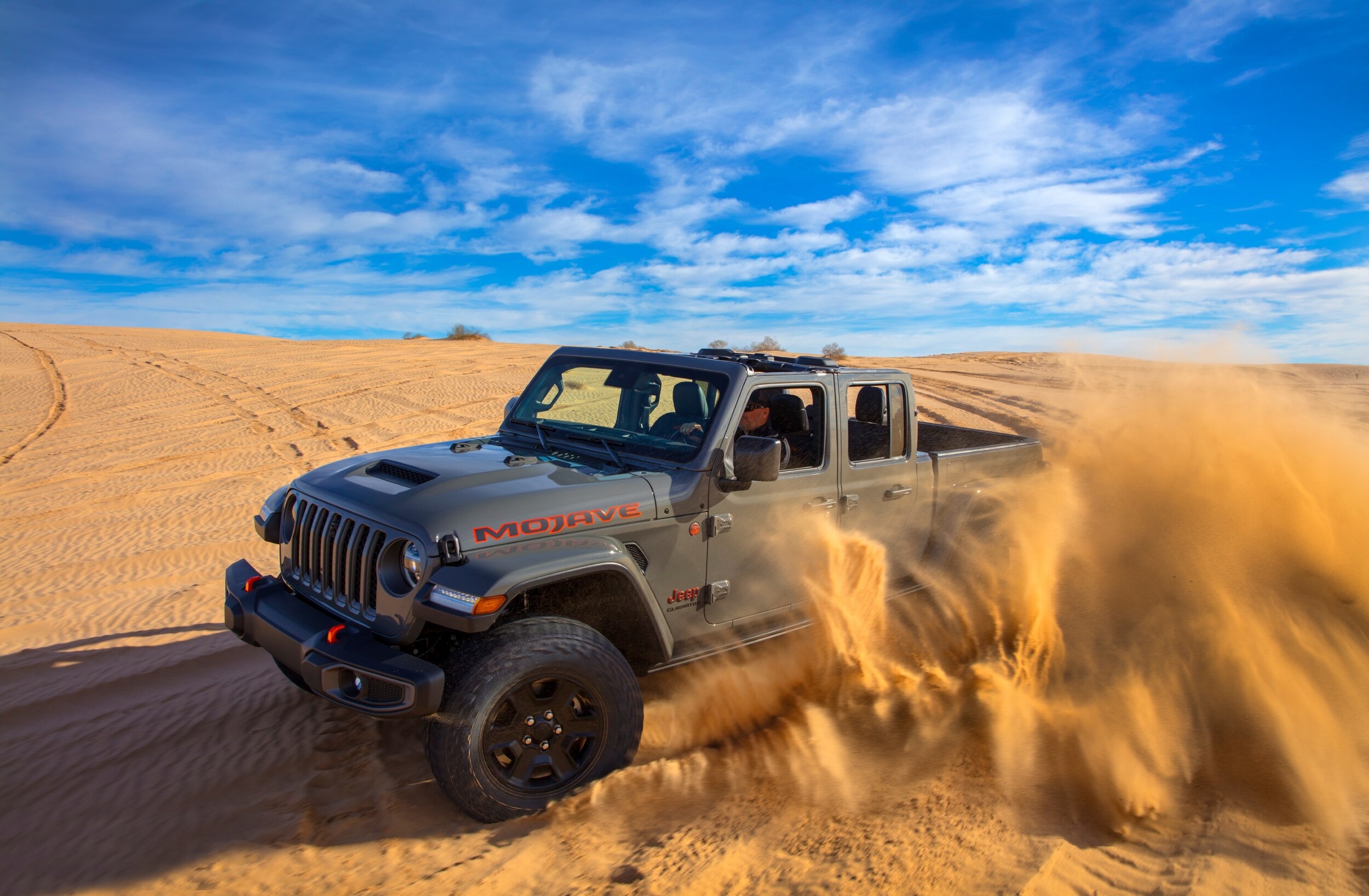 2022 Jeep Gladiator Exterior
The 2022 Jeep Gladiator has a rugged exterior with various accents, such as the round LED headlights, resembling the Jeep Wrangler. The Gladiator stands out with its unconventional design. You can access the sun and wind without compromising the hardtop's weather protection. The soft top closes and opens easily, allowing you and your passengers to enjoy the freedom of the open air. The windshield is made of durable Corning Gorilla Glass and resistant to chips and cracks. The windshield can also be folded down and secured for a more immersive adventure. The signature LED headlamps, LED fog lamps, and LED daytime running lights make visibility easy during the night, day, or bad weather conditions.
2022 Jeep Gladiator Performance
The Gladiator comes with a 3.6-litre V6 producing 285 horsepower and 260 lb-ft of torque. It comes standard with a six-speed manual transmission or an eight-speed automatic. A diesel 3.0-litre V6 is also available and produces 260 horsepower and 442 lb-ft of torque. The Gladiator is longer between the front and rear wheels, improving the truck's handling and ride quality. The truck has plenty of approach angles and ground clearance which help during off-road adventures. The electronic locking differentials provide maximum traction, allowing the truck to tackle tricky terrain easily. The truck has a payload capacity of up to 1,700 pounds and a towing capacity of 7,650 pounds.
Finance With Us!
Visit our online Finance Centre for more information about our competitive payment plans and options. We also have a trade-in opportunity, where you can get guaranteed value for your used car that you can put towards purchasing a new vehicle from our lot. It's a win-win!
Erin Dodge Chrysler Jeep

2365 Motorway Boulevard
Mississauga (Erin Mills / Western Business Park), ON L5L 2M4